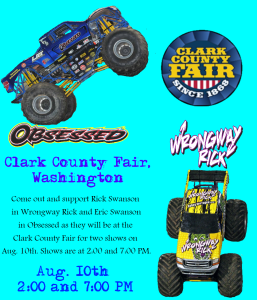 MENIFEE, CA – The first event in July began on the first through the forth in Del Mar California for the fair for WGAS Motorsports. This event consisted of a two shows per day of freestyle only. Rick drove Wrong Way Rick which is always a favorite. Unfortunately his weekend was cut short due to a blown motor in Wrong Way Rick. Eric drove his Obsessed truck and did an excellent job as usual, catching the biggest amount of air all weekend!
From July 16th through the 20th Rick and Eric did another show for the Orange County Fair for Monster X. This was the first time working for Monster X and also doing an event at the Orange County Fair. This show had a wheelie competition and freestyle once every evening. Rick won four out of the five wheelie competitions and freestyle's and Eric won the other two. We had a great time working for Monster X and look forward to future shows.
The following Sunday, July 27th Rick and Eric headed to Paso Robles California for a one day show for Toughest Monster Truck Tour (TMX). This show had racing and freestyle. Eric was on the top of his game in racing until he faced Jimmy Creten and lost against him. Rick and Eric put on a great performance in freestyle and it was fun running up against some of our close friends.
Our next event will be in Clark County Washington for WGAS Motorsports. We hope to see you there!!
MENIFEE, CA – The first weekend of June Rick was in Missoula Montana with his Wrong Way Rick truck and Mark Gallagher stepped in to drive Eric's truck while his was in his final days of his senior year. This show was for WHR Motorsports. It was a Friday and Saturday evening show consisting of racing and freestyle. Rick won both nights of racing and Mark was comfortable in Eric's truck for the first time. They did a great job in freestyle also.
After the show in Montana, Rick drove 22 hours straight home so that Eric would have his truck for his front page article and picture for the Press Enterprise newspaper; congratulating him on his success in his monster truck career while attending High School.
On June 13th Eric's truck was on display for E.B. Bradley's open house in San Diego California. It was a successful turn out and the customers enjoyed seeing Eric with his truck. The following weekend Eric did another display with his truck in Anaheim California for Cook's Tire Company's customer appreciation car show.
Wrapping up the month of June Rick and Eric headed to Rolling Hills Estates in California for a birthday party for Jason's fifth birthday. Everyone big and small had a great time!