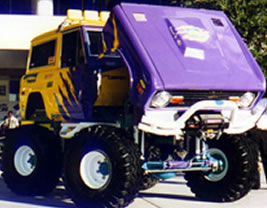 This award winning Bronco has been in over 75 magazines world wide. It is a down size of the Monster Truck. The Bronco started as a 1970 Bronco that was Bone Stock and bought for $1,750.00 for my grandparents in 1985. Through the years the Bronco has been changed.
EXTERIOR
The body has hydraulic tilt front end, shaved door handles, molded Bushwacker Fender Flares. James Duffymolded hood scoop, Smittybilt front & rear bumpers and nerf bars. Front & rear Rampsey Pro 9000 winches, custom paint Inzano. Top off by Carr Light Bars, five Super Off Roader with Phoenix Micro Lite Glass.
FRAME SUSPENSION
The frame is custom made of 2″ .120 tubing. 4-link Suspension with 9″ Superlift coils and 3 Superlift Shocks at each corner. 2 1/2 ton axles, 4 wheel steering by Norwalk Co, and 44″ Dick Cepek Mud Country Tires.
ENGINE
Ford 302 1965 Mustang K motor. Dual four-barrels sit on top of the tunnel rams that feed N.O.S. straight into the manifold. RV Cam 10:1 compression, steel crank and Deep oil pan. The power goes through a C-4 Transmission built by Globe Transmission to the stock transfer case and down to the 2 1/2 ton axles via custom drive shafts by Yarman Drive Shafts.
INTERIOR
Its starts with flat floor boards and fire wall, which makes room for the 9″ color TV. The VCR and Nintendo are mounted under the Brougham bench seat. The custom dash holds all eight gauges, AM/FM CD player and EQ. The EQ feeds four 500 watt MTX Amps and 15 speakers. All fuse and wiring are gold plated from Scosche products. A full cage and Deist Safety protects all occupants.