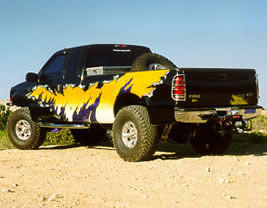 SUSPENSION
8″ Superlift leaf spring front and back a 2″ spring hanger drop in front and a 3″ block in back to level the truck. Two Superlift shocks per tire with dual steering stabilizers. Off Road Unlimited/Extreme Toys ladder bars, front shock hoops, relocated truck arm, dual rear shock mounts and aluminum differential covers. Go Rhino skid plates and truss bars. All one off machining work was done by The Boyz Shop in Menifee, CA. With 10″ of lift we are able to run 39″ Mickey Thompson Baja Tires with Mickey Thompson wheels 16″ X 10″ to keep the tires in good shape we had Precision Alignment mount and balance and align the truck.
EXTERIOR
It starts off with its Obsession Racing PPG bright yellow. Go Rhino 3″ chrome ladder rack and extra long nerf bars, chrome tail light guards, Line-X bed liner, Lincoln Electric welder and generator. Ford tool box, APC clear lights front and back, C.R. Lawrence power rear windows, Reaper Racing bottom door covers and Reaper Racing front bumper with four Pro Comp Explorer 9″ lights, 12,000 pound Ramsey Winch behind the front bumper, 9,000 pound hitch mount in the rear. Stull Billet grills and tinted windows.
Obsession Racing first built this truck for the SEMA 2000 show. The Ford Motor Company had the Super Duty in their booth as the (Power Professional).
We received the truck May 2000 and worked hand in hand with the Ford motor on how it was to be built. It had a 6 inch Superlift suspension dual shock hoops in the front (ORU), dual steering stabilizers (Custom Creations), Confer differential covers front and back, Go Rhino skid plates and truss 36″ Mickey Thompson tires, American Racing wheels.
The truck was all white with chrome Go Rhino long nerf bars, custom ladder rack, and bed-mounted toolbox, Lincoln Ect. Welder, Banshee front bumper with four Pro Comp lights, Stull Billet grill, APC clear corner lights, chrome taillights, guards and chrome sway bars.
The motor is a V-10 with a Whipple supercharger, Borla stainless steel headers, exhaust system and a Superchips performance chip. The interior was outfitted with Katskin leather seats, 9-inch TV./VCR, coverlay floor mats and trim in walnut wood.
After Ford was done showing the truck we were able to do what we wanted. It was painted in Obsession Yellow, 10 inch Superlift springs, ORU truck arm shock hoops, ladder bars, sway bar drops, rear dual shock mounts, 40 inch Mickey Thompson tires, 10 Superlift shocks. We think the truck is much more eye catching now.
ENGINE
Ford V-10 triton motor with a Whipple Supercharger, Borla headers and exhaust system and Borla air filter. Superchips Performance chip, and dual Optima batteries.
INTERIOR
The stock seats were replaced with leather seats from Katzkin then added a TV/VCR in a custom console to help make long drives seen not as long. Dash Design added more wood grain to the dash and door panels. Trenz added their door mounted aluminum skins and thresh holds. Upholstery work was done by Kents Upholstery in Menifee, CA.