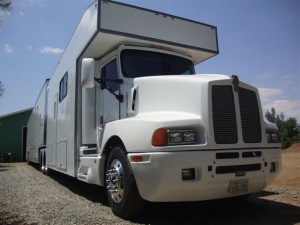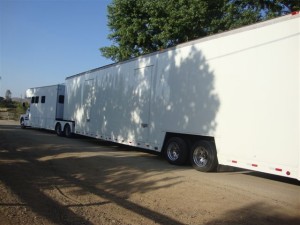 SEMI
Our current hauler is a T600 Kenworth that has become our home on wheels when we are doing our Monster Truck Tours. We started off with a T600 over the road tractor and then converted it into a day cab as the foundation to our newest creation. Our first step was to unbolt the rear drive axles and add twelve feet to the frame and re-drill all of the mounting holes to relocate the axels. Having this extra long frame it allowed us to build a 17 ½ foot living quarters with a 5 foot bunk over the cab. These living quarters are complete with, a full size bathroom with shower, refrigerator/freezer, cook top stove and kitchen sink, entertainment center with a 32 inch flat screen and enough room for a full size family to sleep comfortably. The view from the outside is equipped with all the bells and whistles. It's beautifully trimmed with polished stainless steel and aluminum accessories. And even for those long events it is set up with a custom checked flag powered canopy to relax and enjoy! It has come in handy for those hot summer days or the rainy nights! If this big 32 foot coach isn't big enough on its own, it pulls a 53 foot double drop Kentucky Trailer.
The trailer is set up for 2 full size racing Monster Trucks. All of the eight 66 inch tires sit in the very nose of the trailer on a custom tire crane/rack. This gives storage underneath the tires for a massive Lincoln generator welder and hard parts such as: two transmissions, two complete differentials, a complete planetary end, spare axle shafts, drive lines, rear steer pumps, spare four link bars, spindles, and shocks. From the side doors to the back of the trailer there are ramps that the trucks drive up on. This is how we place the trucks up and over the wheel wells. The reason for the ramps to run to the all the way to the side doors is so that once the trucks clear the wheel wells it provides storage underneath the ramps. By having the trucks sit up on the ramps we are able to secure them down underneath. The storage under the ramps comes in useful for: tool boxes, fuel cell and jugs, battery chargers, pressure washer, cleaning supplies, and organized small parts bins. The outside of the trailer is equipped with access doors: one of the doors is to get under the tires, and the other two doors are for tool boxes. There are also 1500 watt lights on the right side of the trailer which is very useful for those evening when we have to work in the pits. The trailer is also trimmed in stainless steel and the rear doors are polished stainless also.
This is one of the longest set ups out there because size does matter especially in the Monster Truck industry.